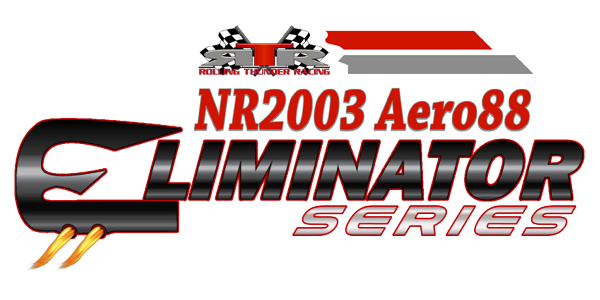 Click on the image above
for the Season 59 RTR Aero88 Eliminator Series Standings.
SERIES INFO
This series is based off the NASCAR Race for the Cup format.
The Eliminator series is a fun series within a regular RTR points paying series.
This Series is meant to add more fun and excitement to the series it is ran in.
This series will follow all RTR NR2003 rules.
Each week you will receive the points you earned in the RTR series it is running in plus any bonus points posted below.
SERIES FORMAT
This series will start on week#1 or #2 and take 13 weeks to complete.
It will consist of 4 rounds of 3 races each round and round 5 being a 1 race shootout.
Points will reset after each round, meaning you will have 0 points at the beginning of each round.
Each round we will eliminate 1 less driver than the previous round.
Round 2 = Eliminate 5 drivers
Round 3 = Eliminate 4 drivers
Round 4 = Eliminate 3 drivers
Any driver who Did Not Start (DNS) in all 3 races in any Round will also be Eliminated.
Round 5 will be a 1 race shootout between the 3 remaining drivers.
This round will be the last race of the season so there may be a week break between round 4 and round 5.
NO POINTS AWARDED FOR ANY OF THE FOLLOWING
Provisional for the Race
Did NOT Start the Race for any Reason
Make NO effort to race for Points
This series points will NOT be official until the series it is running in posts there incident report.
Once the points are recorded for Week #1 of the Eliminator Series no additional drivers may be added to the Eliminator Series for that season!!!
TIE BREAKER
If two or more drivers are tied for the last transfer spot in any round, the tie will be broken by the best finish that round.
It will continue to the 2nd best finish then the 3rd best finish.
The final tie breaker will be the finish order in the 3rd race.
Since the RTR Series & this series bonus points have already been added to your points, bonus points are not a factor.
BONUS POINTS
This series will give BONUS POINTS each round for wins and top5 finishes.
Bonus points do NOT carry on to the next round.
Race Win = 3 points
Top5 finish = 1 point (2nd - 5th place)
This page may be amended at anytime to improve this series.
But unless we find an obvious mistake we will not make any changes in mid season.